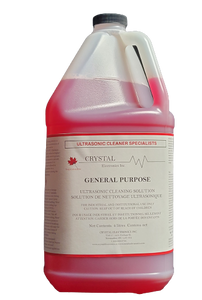 Certified Branson Formula.  Made in Canada by Branson's Canadian Authorized Sales and Service Centre: CRYSTAL ELECTRONICS INC.  
GP Concentrated solution is a biodegradable, phosphate and caustic free alkaline cleaner
formulated for general purpose and normal maintenance cleaning applications.
Liquid non-ionic surfactants and detergents bases are combined in a formulation with
excellent detergent, wetting and free rinsing properties which provides exceptional
performance for general maintenance cleaning in virtually all industries with virtually all base materials.
GP Solution readily removes general soils, fingerprints, dust, packaging particulates and light oils and greases from components and products found in machine and metalworking shops,
chemical plants and petrochemical refineries, automotive plants, appliance factories,
telecommunications equipment producers, printing plants and many other industrial,
manufacturing and fabricating facilities.
GP Solutions is safe for use with most base metals and alloys, thermoset and thermoplastic resins and other synthetic materials.
Please note:
Must ship by ground carrier.
Additional Surcharge for shipping Liquids / HAZMAT.
Hazmat / Liquid products are non-refundable and non-returnable.