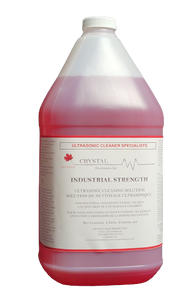 Certified Branson Formula.  Made in Canada by Branson's Canadian Authorized Sales and Service Centre: CRYSTAL ELECTRONICS INC.  
IS Concentrated solution is a biodegradable, phosphate and caustic free alkaline cleaner
formulated for heavy-duty industrial use.
A blend of liquid non-ionic surfactants and detergents, the superior detergent properties,
wetting capabilities and free rinsing properties of IS Solution combine to provide and
exceptional cleaner for removing difficult soils and contaminants.
IS Solution readily removes grease, oils, and particulates from automotive, aircraft, and
similar mechanical components; removes oils and drawing compounds from stampings;
cleans shop oils, greases and similar soils from components prior to secondary finishing
operations including painting, plating, application of various electrostatic spray coatings, and
removes grease, oils, and light carbon deposits from stampings, turnings and similar
component used in every sector of industry.
IS Solutions can be safely used with most base metal and alloys without pitting or
discoloration
* Please note:
Must ship by ground carrier.
Additional Surcharge for shipping Liquids / HAZMAT.
Hazmat / Liquid products are non-refundable and non-returnable.