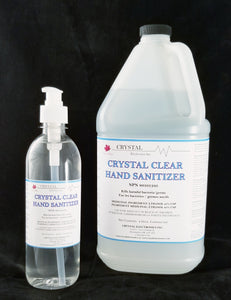 4 litres plus free 500ml refillable bottle with pump
Made with 65%  USP / Medical Grade Ethanol and 5% UPS/Medical grade Isopropanol /Isopropyl Alcohols  (70% total) and has added Moisturizer for best protection. Licensed under Health Canada issued natural product number NPN 80101105.
Protect your family/staff/ patrons with the best.  Safe for all - including children over 2 years of age. 
If you offer hand sanitizer to everyone  to use then offer hand sanitizer SAFE for EVERYONE to use!  TRUST CRYSTAL CLEAR HAND SANITIZER.  We are licenced with Health Canada to manufacturer and sell MEDICAL GRADE/USP (PHARMACEURTICAL GRADE hand sanitizer safe for anyone over 2 years of age.
BEWARE OF HARMFUL HAND SANITIZER: Health Canada has allowed harmful Technical grade alcohols to be used in hand sanitizer. Technical grade alcohol has impurities that is harmful to most people.  It is not safe for: children at any age, pregnant woman, nursing woman, anyone with skin disorders or damaged skin, and more.  
Health Canada approved the use however it must have and NPN number AND warnings on the label as indicated above.  Sadly there is so much on the market that have not followed the rules and you may be compromising the safety of your family.  
You can trust Crystal Clear Hand Sanitizer.  We only sell the safest Medical grade - Pharmaceutical grade hand sanitizer.